Earn money for our school through Rewards Programs!
Below you will find a lot of information about the rewards programs that the RF/CC PTO participates in. Refer to it throughout the year as you collect and save items for our school.  Don't forget to spread the word to family members, friends, neighbors and coworkers!!
Thank you for supporting Robert Frost / Challenge Center!
If you have ideas of additional rewards programs that we can participate in, please let us know!
---
Amazon Smiles

Do you shop on Amazon? Start your shopping at smile.amazon.com and select Robert Frost Elementary PTO as the charitable organization you want to support. Continue your shopping as usual, and we receive a small kickback from Amazon. You MUST begin your order by going to smile.amazon.com – or it doesn't count for this program.
---
Box Tops 4 Education
Help Robert Frost earn money with no extra cost to you! Each General Mills brand box top is worth $.10, and when we combine all contributions it adds up to several hundred dollars that help pay for fun student activities.
This year marks a major change in the program. You can still submit the clipped tops in the labeled bin located in the front entrance, but most products are going digital: no more clipping! Here's how it works: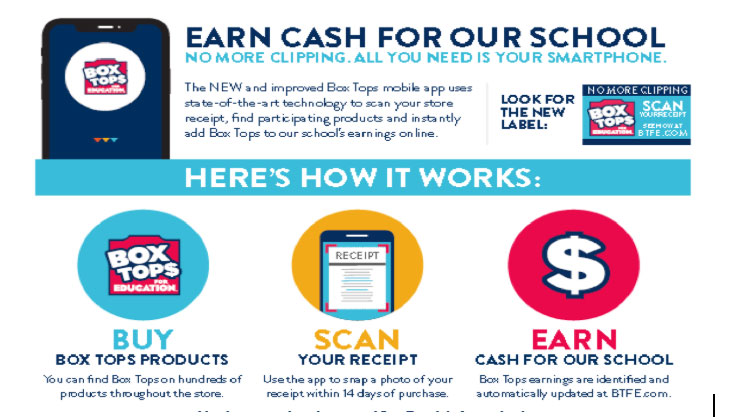 Download the app, choose Robert Frost as your recipient, and help us start earning. Kids and teachers thank you!
Some things to remember:  
Place student's name and classroom on sheet or bags of Box Tops – we do keep track and have prizes for those who participate!
Check for expired labels.  Some people will cut the label off the package right after purchasing in order to get it turned in before they expire.  We do not get paid for expired labels.
If you have counted them please be sure to note the number on the envelope or bag so we do not have to count again
The Box Top collection bin is in the entryway of the front doors.  Kids can bring to class and teachers either have a collection spot in their classroom or they will have students take to the main collection bin. 
"Like"  Robert Frost Challenge Center PTO on facebook to be informed of submission deadlines and other Box Top tips.   Thank you for "Clipping" for our school!
Our goal is to collect $1000 through the Box Tops program this school year.